JMTolcher
Regular price
Sale price
$21.00 USD
Unit price
per
Sale
Sold out
Part provocateur, part seducer, this young gay man's account of life offers one of the freshest takes on Australia and the world today.
Honouring poets of the past – Jean Genet, Veronica Franco, Euripedes, Hunter S. Thompson, Oscar Wilde – and joining in their task of finding meaning in existence and the modern world, Tolcher has produced a brazenly honest debut without precedent.
Through his writing he subverts his own shame, weaponises it, and positions himself as an anti-hero of our time right when we need him the most.
Following his humble beginnings as an outcast in the dreary outer suburbs of Brisbane and escalating into a Dionysian, poetic and pornographic international climax, Poof follows Tolcher's search for love and purpose as he is drawn to the beds of powerful, sadistic men. If he can endure just a little longer, a little more... will they love him?

In an age of victimhood, Tolcher offers us a roadmap to empowerment and integrity as he pulls back the curtain on both our pride and our shame, and shines a spotlight on a hidden history that has been erased time and again.
Share
View full details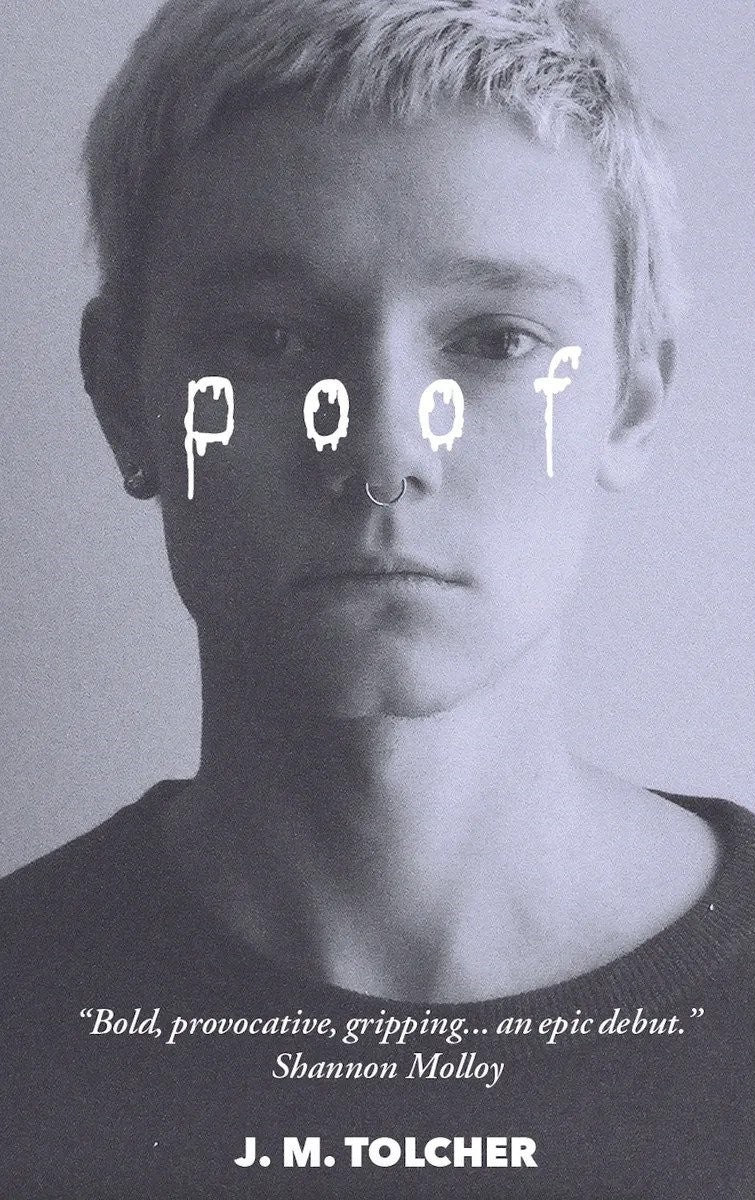 Poof is totally unique beautifully written and disturbing at the same time.
The author sucks you into the rabit hole of his young life and its not a pretty story. A life of extreme sex , drugs and abuse at the hands of bullys, narcisists and sadists. Once started I had to finish. It reminds me of the time i dropped acid in the 80's one hell of a trip but once was enough for a lifetime.
This book was such an experience to read, that I was drawn in from the poetic, opening, the pantheon of Ancient Greek references and the beautiful prose that held it's course the entire way through. As gripping and beautiful, and empowering as it is intense and sad: Poof was one of those rare Australian books of such honesty that I could see myself in the pages and felt like I was walking through them along with the Author.
Seriously good
James Tolcher has told his story in a manner that will captivate you. Best book Ive read in ages! Can't wait for his next book...
A gripping read
If you grew up gay in the suburbs of Brisbane in the 90s, you will almost certainly empathise with the author's upbringing and experiences. Nigh impossible to put down, and confronting, Tolcher dares not shy away from any topic, and describes them in vivid detail and brutal honesty. Interspersed with waxing poetic about their struggles, and rage of the downtrodden, this is a well-written book I can highly recommend. I am still unpacking its impact.